eLearning Lessons: You must have Flash Player Version 7 or higher to view some parts of eLearning courses.
Having computer problems? Click the
Technical FAQ
to review some easy fixes.
"My course does not track." Users must complete the end of lesson survey and click EXIT so that the completion is reported to the LMS. Clicking X does not report to LMS. To correct this, students can open up any module in the course and click the EXIT button.
Taking Click Safety courses using a Mobile Device or Tablet?
Learn more
about the technical requirements to ensure the best experience.
Red Vector Courses: These are third-party lessons which load a separate window. It may ask you to enter your basic information especially for OSHA 10 and 30 classes.
Unable to log in? If you are receiving an invalid username or password, email
FTIInternational@iupat.org
. To verify your account, provide your full name, Member ID (if available), LU, DC, and birthday.
Using Chrome "After clicking the lesson, the screen is blank. I hear narration but cannot view any text or graphic." Click
here or the Help area
for the explanations/fixes.
Frequently Requested Features
Can the LMS do this? Can the LMS do that?
Click the link to find out the answers to frequently asked LMS Admin features.
If you have more questions, contact
ftiinternational@iupat.org
.
LMS User Tip
Completed Courses: Remember to click the tabs on your My Account page under Learning Activities to access ENROLLED, OVERDUE, COMPLETED, or EXPIRED courses.
Once a course has been completed, it is automatically moved to the COMPLETED tab. You can access the course repeatedly from this tab.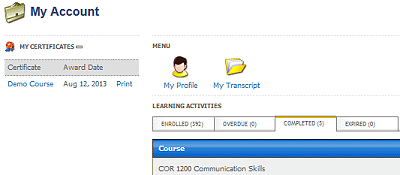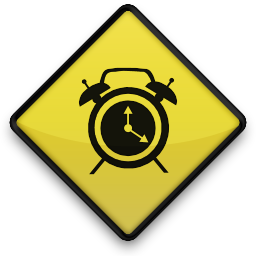 LMS System Timeout - (Security Note)
The LMS has a 10-minute timeout period. If you do not refresh or request a new page within the 10-minute period, the session ends and you will be required to log back in.
Do YOU want to learn something new? Do you want to refresh or build new skills in a topic of interest to YOU?
If you answered YES, and you are an IUPAT Member, then you can begin your learning efforts today! Here are some of the eLearning topics available to you in the FTI LMS:
Professional Development
MS Word, MS Excel, MS PowerPoint
Personal Finance
Project Management
Time Management
Setting Goals
Business Communications
Business Writing
Winning Proposals
Coaching/mentoring
Handling Customer Conflict
Networking and building business relationships
Managing anger and emotions
Health & Safety
Ladder Safety
HAZCOM
Fall Protection
Back Safety
Fire Safety/Classes & Extinguishers
Asbestos Awareness
Warning Signs and Labels
FTI Online Libraries
The FTI Curriculum and Instruction Department, in partnership with the K-Learning group, uploaded 50 new online courses, including some Spanish versions. The new lessons are interactive, contain assessments, and have reporting capabilities. They are found in the Core curriculum under 1.0 Introduction to the Union and Finishing Trades and 2.0 Health and Safety categories.
Review additional courses for your training centers' need and interest
Your Director of Training should email
FTIInternational@iupat.org
to request the courses.
If you are interested in taking any of these eLearning courses, contact your Director of Training or your supervisor to get you started. All course completions will be recorded on your professional transcript.
OSHA


OSHA 10 and 30 are available online and on the FTI LMS. You have the option to take these courses at a place and time of your choice and within the requirements listed below. After successfully passing the course, an OSHA card will be sent to your mailing address within 4-8 weeks.
To receive your OSHA card, be SURE to fill in your address and phone number once you are connected to the course.
OSHA 10 and 30 have similar requirements:
The online training should be completed within 6 months from the date when you start the course.
The minimum passing score is 70%.
The student has 3 chances to pass the online quizzes.
The student will be forced to take the quizzes in the order presented in the online training.
For OSHA 10, the student will not be allowed to log into the training for more than 7.5 hours per day; plan on a minimum of 2 days to complete the training.
Students must complete the end of course survey and click the on screen end/exit button to receive a completion. Do not click the X to exit the main window.
OSHA 30 - session will time-out after 15 minutes of in-activity - even in the test.
To have access to these eLearning courses, your Director of Training needs to send the request to the FTIInternational@iupat.org. Email the full name, course, member ID, and email address.
Click here for technical requirements if using a mobile device or tablet to take the OSHA 10 or 30.
IUPAT 101
Click the picture below to play the lesson and learn about the IUPAT structure, funds, departments, and programs.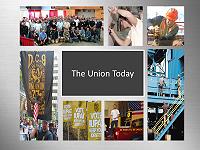 Sample DC 7 Orientation eLearning
Sample DC 51 Orientation eLearning
Best Practices for Painting Ceilings
Master Painters Institute - Professional Coatings Insider
Back in the day, ceilings were often finished with spray textured surfaces consisting of polymeric binders or modified plaster and aggregate to create a "spatter" effect. This spatter effect helps hide flaws in the finish that otherwise might be quite visible. Current trends have shifted, especially in medium to high-end construction. Now many owners and architects tend to prefer a flat, smooth drywall ceiling surface.
We've discussed the challenges of obtaining a satisfactory finish
with new drywall
on a
few occasions
so it is probably no surprise that achieving a smooth, defect-free finish on a ceiling can be even more difficult.
These defects are caused by a variation in texture and porosity between the paper coating and the drywall filling compound (paper absorbs the applied coating at different rate than the filling compound, creating an uneven surface). Generally, defects in a ceiling's finish are only visible when viewed at an angle. Lower ceilings tend to make surface defects more visible as the viewing angle becomes more acute.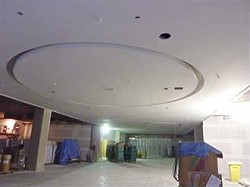 Generally, lower ceiling tend to make surface defects more visible as the viewing angle becomes more acute.
The following list provides best practices for achieving a smooth and uniform finish when painting ceilings.
1) Backroll Sprayed Finish
Even if the initial finish was sprayed, the specification should require backrolling the primer and finish coat system. The stipple pattern of the roller can help to hide the underlying texture variations in the drywall. A ½ inch (15 mm) nap roller may offer the best and most efficient results.
2) "Blend Back" When Painting a New Section
Very large ceilings are finished in phases, and it is not reasonable to get all the paint from a single batch as is generally advocated for wall coating work. Consequently, the specification should require the painter to "blend back" the finish of each new section by shading the new topcoat back over the previous section with a spray gun. With a flat finish, this can effectively prevent a noticeable difference between sections finished at different dates with material from different batches.
3) Perform Final Inspection After Permanent Lighting Conditions are Set up
Critical lighting conditions caused by either natural light from windows or from ceiling-mounted fixtures can accentuate surfaces defects. It is important to perform the final inspection after setting up the permanent lighting conditions for the space to determine which defects will be visible once the project is completed.
If inspection occurs when lighting is lower than the permanent conditions of the space, "new" surface defects will become visible once brighter lighting is installed. If inspection work occurs with when lighting is brighter than the permanent conditions of the space, time and money could be wasted repairing defects that will be invisible upon completion of the project.
4) Specify an ASTM Level 5 Drywall Finish
Optimal results are more likely to be achieved if the specification requires an ASTM Level 5 drywall finish (application of a skim-coat of drywall compound across the entire drywall surface).